Cephworx – Cephalometric Tracings Made Easier with Less Work!

Powerful Ceph Tracing Software, One Simple Price!

includes all features, standard e-mail support, and software updates
E-mail sales@jklsoftware.com today to order!
New for 2023: Fast and Full mode tracings for quick access to measurements or traditional tracings. Double superimposition layer capability incorporating linear or full scaling to base tracing! New Feature Release includes string-ruler, summing-ruler, ladders, and obscurer tools as well as complete full compatibility with ultra-high-resolution (highDPI) screens. Still works great on minimal computer hardware, grows and scales with you.

Cephworx is a modern ceph tracing system that reduces effort needed to complete tracings. Very simple to use, but with power features only seen in larger tracing software, Cephworx meets the needs of everything from those learning ceph tracing to advanced users working on research projects.
Commonly used with the
IAO Professional Advancement Program
, Cephworx can guide the user through completing a ceph tracing from start to finish. Advanced users can get directly to business with less effort by disabling guidance they don't need.
Lightweight hardware requirements allow for use on tablets, laptops, and smaller operatory computers.
Standard e-mail support and updates are included with NO annual support fees. ALL FEATURES INCLUDED – no nickel-n-dime "module" subscriptions!
General Features: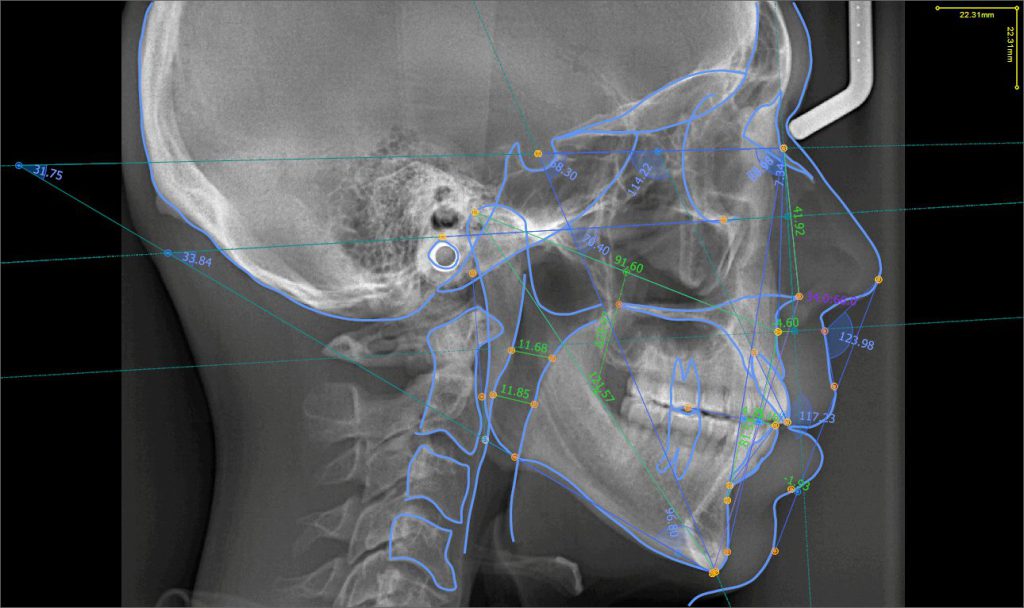 Multiple tracing methods accomodate users from beginners to advanced practitioners. Full scripted tracing method support customizable scripts and includes analysis for IBO/IAO, IAO New England 35-point (Owen) Analysis, IAO Puerto Rico, ABO, Steiner, Rondeau, and multiple variants of Sassouni including standard, Plus, NFO, and Lite/Jefferson.
"Fast" scripts allow for quicker access to measurements without unnecessary tracings while "Full" scripts produce traditional tracings with soft & hard tissue outlines.
User created custom scripts allow for future expansion to meet your exact needs.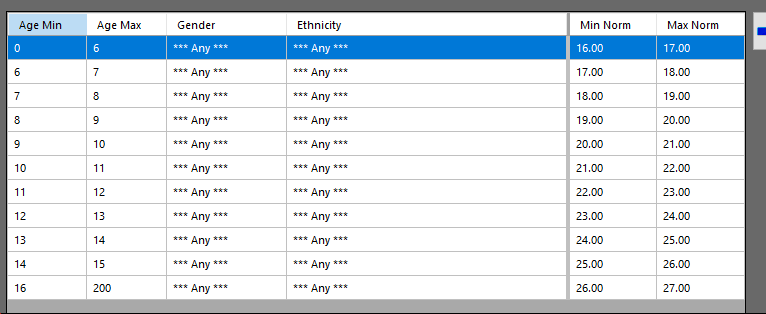 Normal values can be customized as "simple" min/max values or adjusted to take into account a combination of the patient's age, gender, and ethnicity.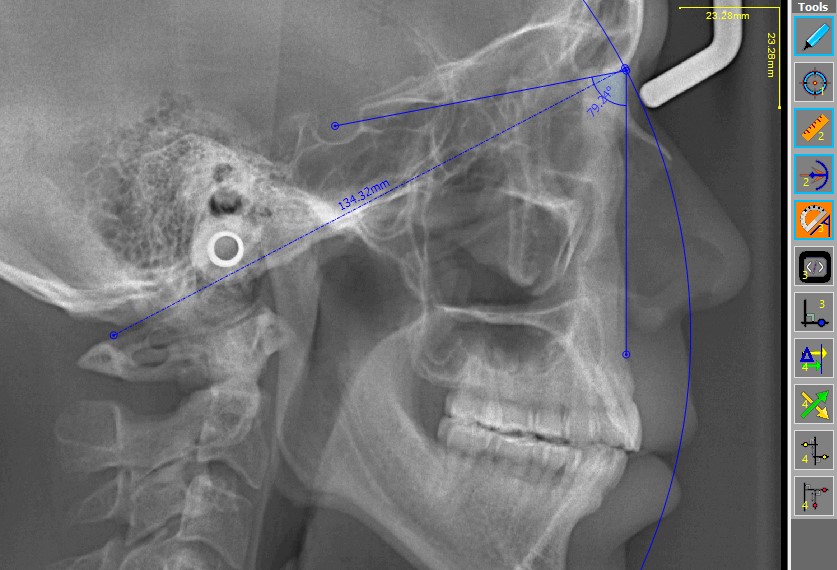 Freehand tracing mode provides the user with individual measurement tools to make quick measurements fast and easy without the need to complete a full "scripted" trace. Over a dozen tools emulate measurements from protractor, ruler, and caliper measurements, completely automated to reduce time and effort.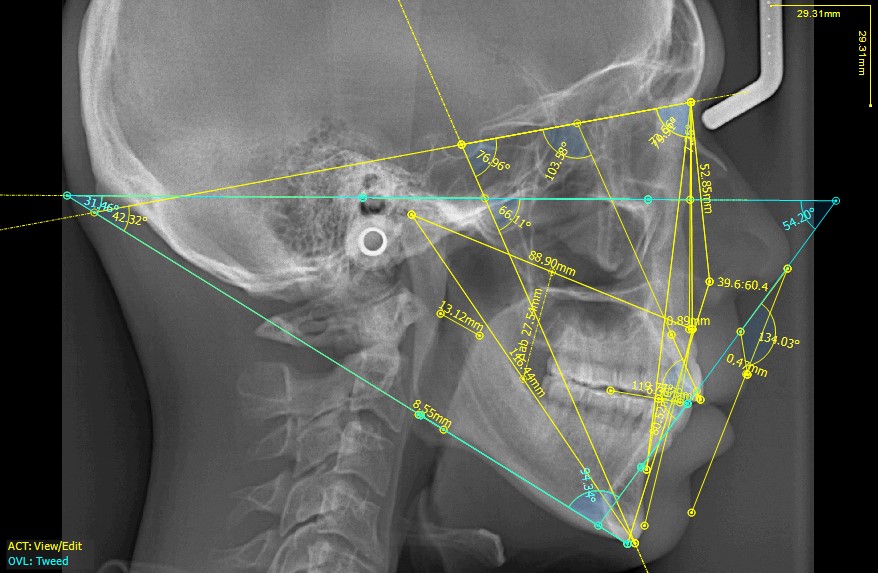 Overlay mode allows viewing of multiple analysis simultaneously on the same image.
Double Superimposition modes provides correlation of multiple sessions into one image.
Multiple color choices and user customizable layer colors provide optimal viewing and improves user experience.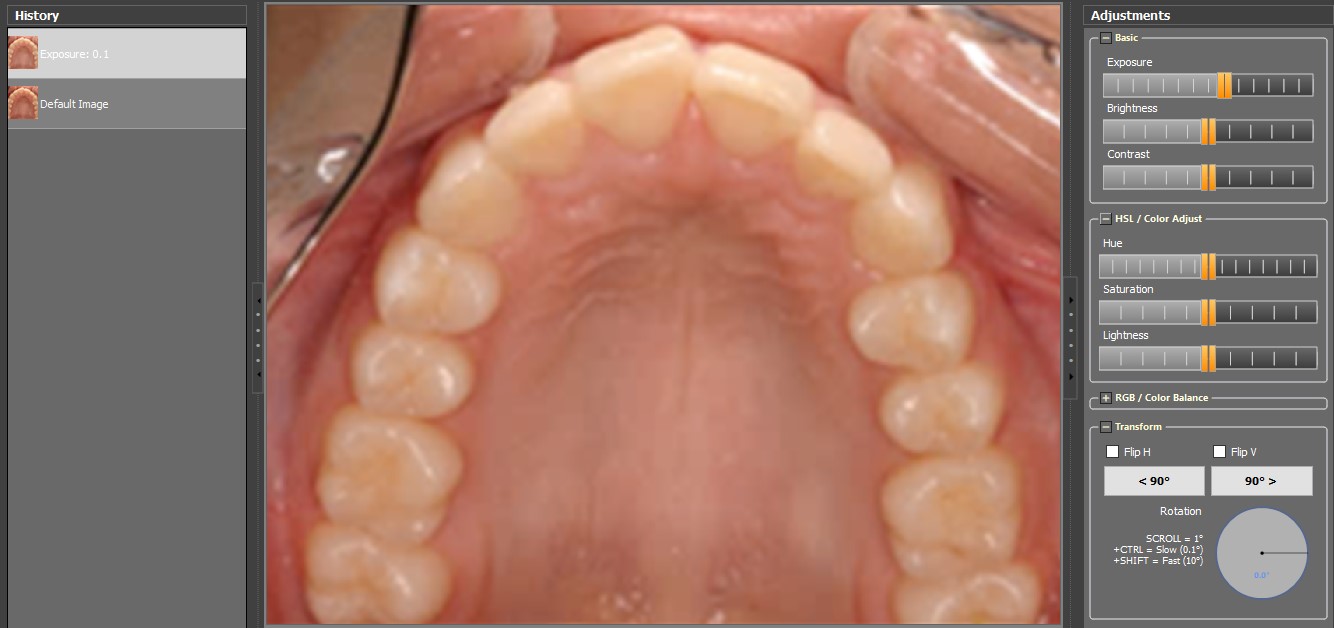 Full non-destructive image editor allows for perfecting imaging and photographs with full history and recoverability, even for changes in crop or rotation.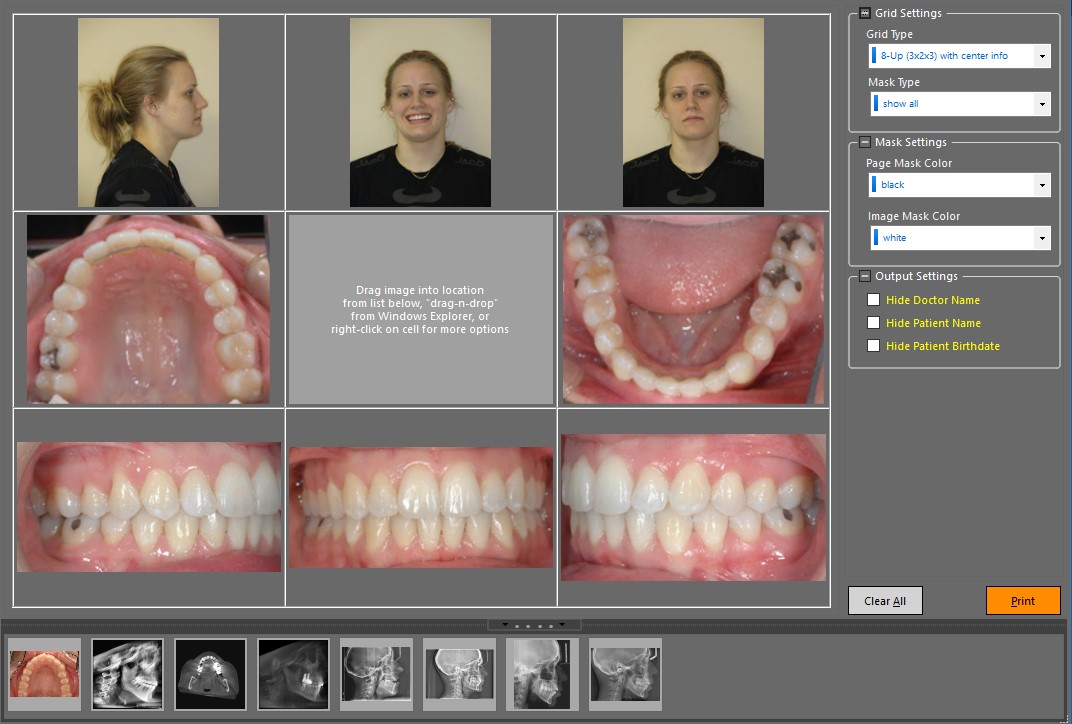 Photo imaging grid allows production of standardized photo grids in 3-image vertical "skyscraper", 8-image grid with center patient information, or 9-image full grid layouts.
For users teaching courses (and your students!):
Ability to highlight selected trace item creates ease of viewing for your viewers
Custom tracing colors and overlays allow for easy comparison of multiple traces
No confusing extra "features" that take away student's focus on the tracing data
Two colored, erasable digital highlighter for freehand drawing on the tracing to emphasize vital information
Additional features include:
"Quick Trace" mode to reduce production time to your favorite ceph tracing format
Multiple statistical analysis built-in for data acquired from tracing.
"Fat Finger" tracing mode with Touch-Mag system allows for accurate, fast finger-only tracing on tablet and touchscreen PCs
Create, print, export and save photo grids with patient record for easy future retrieval
Direct, one-click automated export of tracing with measurement values into Caseworx cases
Basic e-mail support and lifetime updates included with no annual costs
Direct Drag-n-Drop import of digital radiograph and photographs. Support DICOM as well as raster (jpg, png, bmp, tiff) file formats
Auto configuration and patient record creation from DICOM radiographs that provide data
User-configurable measurement accuracy from 1 to 4 decimal returns
Printable AND exportable completed tracings in multiple formats, both directly and with traced data values
Outputs tracings for many formats. Custom "scripts" can be created and included scripts can be duplicated/modified for your own preferences. Scripts are available in both "Fast" and "Full" configurations. "Fast" scripts reduce tracing time by removing unnecessary items to rapidly get measurements. "Full" scripts allow for a traditional format tracing with soft & hard tissue outlines.
Some of the included scripts are:
IBO (International Board of Orthodontics)
ABO (American Board of Orthodontics)
Ricketts
Steiner
IAO New England 35-point Block Analysis (Owen)
IAO Puerto Rico (IBO 2023)
Rondeau
Sassouni
Sassouni Plus
Sassouni Plus NFO/Gerber
Sassouni Lite (Jefferson)
Downs
Harvold
Jarabak
Tweed
Directly export completed tracings, images, and grids to JKL Caseworx for case creation with one-click. Includes IBO measurement value requirements.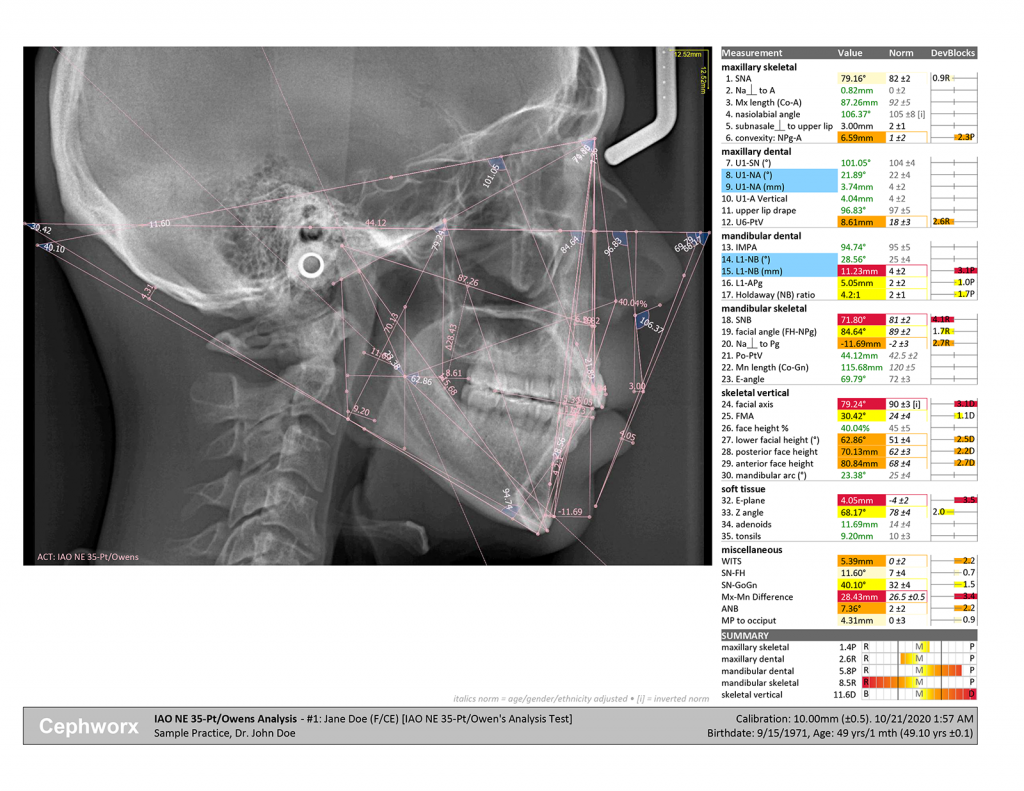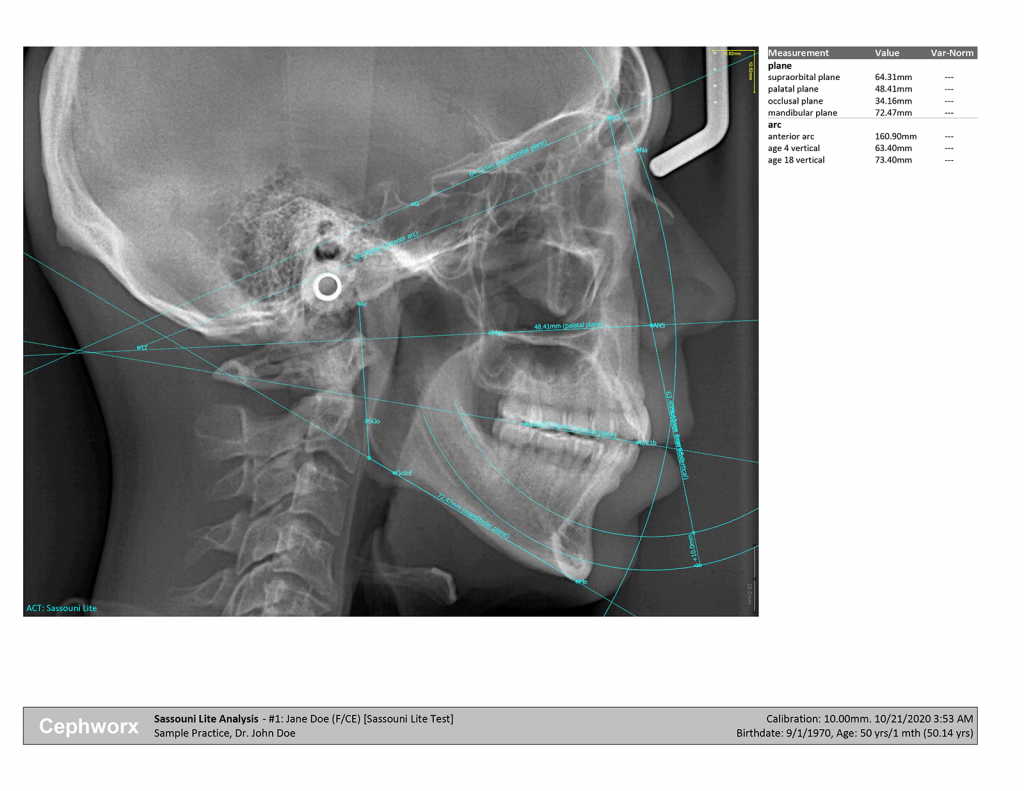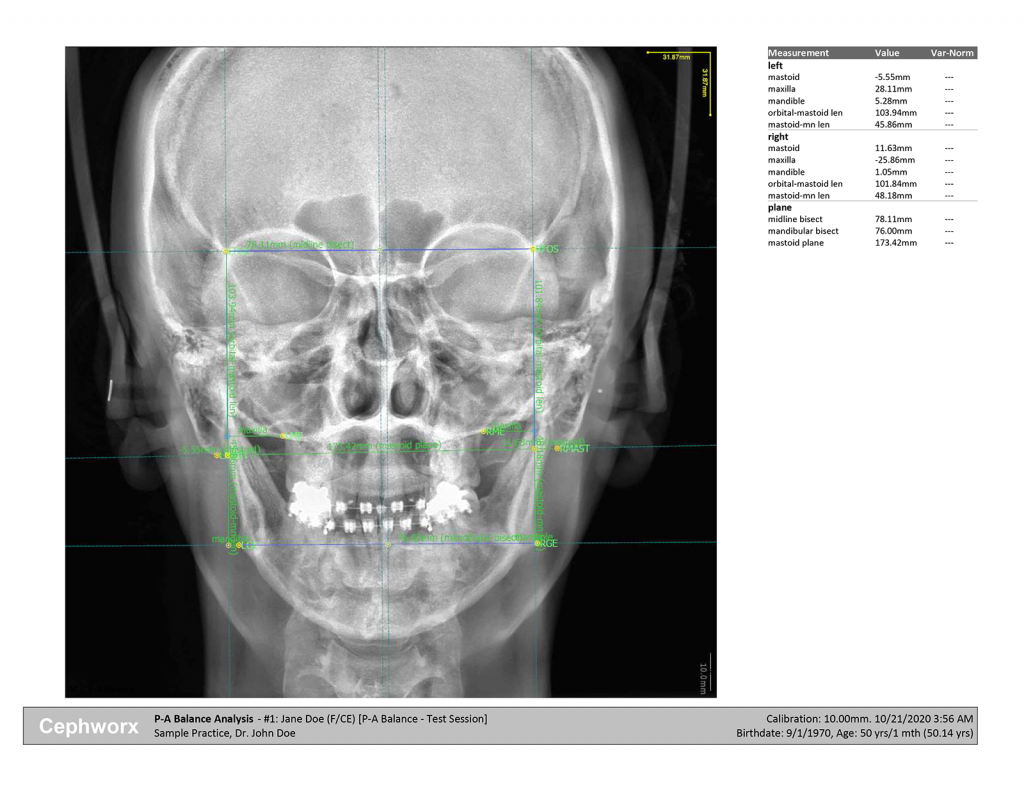 Freehand Tools
Freehand mode allows the full power of Cephworx to be utilized. Individual tools are designed to represent their physical counterparts such as rulers and protractors, but combine these simple tools into one-click power user tools.
Some included tools are:
Standard ruler – measures length between two points
Bisecting ruler – automatically determines the exact center between two points
Bisecting perpendicular ruler – determines the center point and creates a 90° plane at the intersection point
String ruler – just like wrapping a string around a model! Choose multiple points to create a continuous measurement. Great for arch perimeter or other circumferential measurements
Summing ruler – choose multiple points to create segments and get an automatic sum of the segment lengths
Standard protractor – 0-180° measurements of three points
Full protractor – 0-360° measurements
Bisecting protractor – automatically determines the mid point of the angle and projects a plane at the intersection
Ratios – select 3 or 4 points to create a touching or separated set of lines and determine the ratio of the segments
Cross Angles – select 4 points to establish two planes and determine the angle where the planes meet
Auto-parallel ruler – select 2 points to establish a plane and another to create a parallel plane to the first
Arc/Arc-Reflection – strike an arc at a point or reflect the arc 180° from the selected points
Tangental distance / length – establish distances on multiple planes for measurements like WITS, arch depth, or FH-perp to N-A pt
Differencing ruler – determine the difference between two lengths by drawing
Obscurer – securely obscure imaging details using an opaque block without affecting the clarity or quality of the measurement data
Freehand Markers – draw anything you'd like to highlight or annotate in blue or red
Ladders – easily trace contours or outlines by simply clicking points around the item while Cephworx "prettifies" your path to your specifications